Last year I set out to move and work abroad in China which was simultaneously the most rewarding and challenging experience of my life. My school centre was a branch of First Leap English, a Franchise school with numerous branches around China. My school branch was based in the bustling capital city of Beijing. My teaching hours were: Wednesday to Friday 2:30 pm – 8:30 pm, Saturday and Sunday 9am-7pm.  My commute to work always ranged from 30-60 minutes.
I was really lucky to be placed at one of the largest centres in Beijing. I got to teach stage 1's who would hug and tickle me during class all the way up to stage 8's who were attempting to teach me how to solve a Rubix cube! The school facilities were great, despite it being an old centre, we all had computers and the necessary resources.
Beijing is a lot like London so settling in wasn't difficult at all. People complain about the air pollution often; it didn't really affect me. The pollution is definitely present and stronger during the winter months but the pollution masks really help. The great thing about living in Beijing is that there is always something to do or see; whether it's art at the 798 District or a historical attraction like the Temple of Heaven, there is something catered for everyone.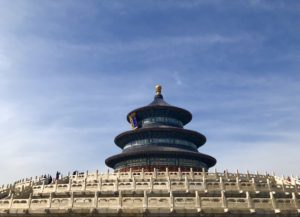 In terms of accommodation, my friends and I looked long and hard and found a beautiful apartment in Wudaokou. It's a bustling area in which a lot of foreign students choose to live in due to the universities situated there. I used to get a full English breakfast and coffee for about £4 there! Our apartment was actually a bit further out, but it was part of a lovely community – we often tried to communicate with the Chinese locals there who were really accommodating.
Shopping is so easy in Beijing. You can use WeChat to scan barcodes and pay for anything everywhere – and it's generally cheaper to shop there. Because Didi (the equivalent to Uber) and the subway is so cheap it's very stress-free to get around the city and explore.
The highlight of my placement was definitely working with children. They really have the ability to brighten up your day no matter what! But the other highlight would have to be the travel opportunities that come with the job. The first two countries I travelled to were South Korea and Japan. After that, I felt like I needed to go on a longer trip. When I decided it was time to leave Beijing, I went on a long journey from Sri Lanka to Indonesia which was easily the best thing I've done to date. I only got back recently actually and I am already itching to be out there again!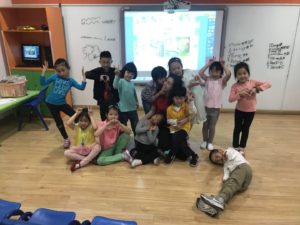 After my full year of teaching, I moved into the research and development department of my school. The working hours were more of a 9-5 job but I absolutely loved the work I was doing. Every day I was working on something new. I got to design the pages of a new kindergarten textbook, including writing stories and drawing the storyboards that would then be created into 3D art. It was an invaluable experience and it really opened up my eyes to other things I'd like to do in the future.
Interested in working in China and want to find out more? Our UK agency ensures that schools are up to top standard and provides an additional layer of protection and reassurance when negotiating issues with your Chinese school. To find out the latest vetted and quality assessed top providers in China check out nooneliterecruitment.com/teach-english-in-china.