What was the name of your online company?
PalFish
What were the working hours like?
Available teaching hours are from 6am to midnight 7 days a week. Prime or peak  teaching hours are from 5:30-9pm BJT on weekdays and 9am-9pm BJT on weekends.
I have always been able to be booked until about 11pm on any given day and on weekdays usually I can get bookings starting at 2-3pm on weekdays and kids often want to take classes from 7-9am before they go to school as well.
How did you feel the company treated you?
-like a person or a number ?
I have worked online for 7 years for multiple companies. I feel I am treated best at PalFish compared to all of the rest of the teaching companies I've worked for. At PalFish I feel I am treated like a person more than I have before in the online teaching industry. That said, there will always be issues and we may feel slighted but if I take a step back and look at it I think the rules they have in effect are mostly reasonable.
The only one I have an issue with is the fact that they no longer accept power outages as a valid reason to cancel a class within 24 hours. I have also worked with my admin on many side projects for the company so I have a good and
close relationship with many of the PalFish staff.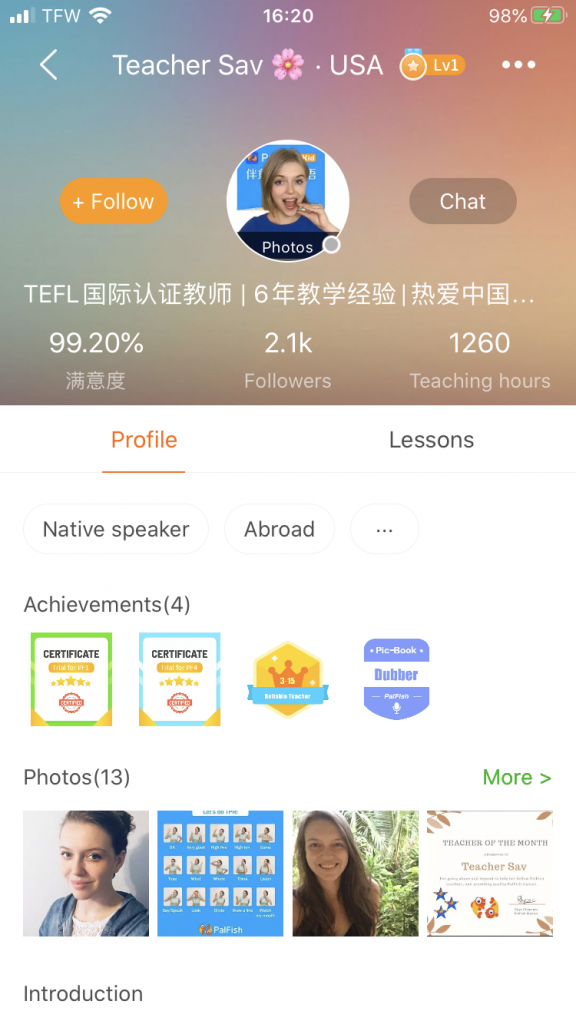 How was the website interface for usability?
-easy to use or difficult?
I love the PalFish interface. It is very user friendly and easy to use. With PalFish you teach from your phone or tablet using the PalFish teacher APP. It is easy to adjust your schedule to open times, and cancel classes if need be. You can directly cancel from your teacher APP if something comes up whereas for other companies I've worked for you have to go through your admins to cancel which caused many issues if there was an emergency.
You can also message your students directly and talk with them and their parents without going through the Chinese head teachers or admins and this makes it very easy to become close to your students and their families. (There is a backup computer site to teach from but it is to be used ONLY in emergencies as it doesn't have all the features the teacher AP has.)
What were your students like?
Most students are lovely and are wanting to learn. I really think that the PalFish lesson content is the best content I've ever been given to teach and it really brings out the good qualities in the students because it is interesting and makes them want to participate in the lesson. I have a lot of regulars I have taught for over 2 years now and I'm very familiar with not only them, but their family, their pets, and
even their classmates! They are amazing!
(Most students are Chinese. However, I do have some students who are Korean, Japanese, and even a few Russian kids.)
Student age and ability range
Students are usually aged 3-12 but I have taught children as young as 2 years old and as old as 16. Those who are very young 2-4 years old are the most challenging because they are still learning their mother-tongue. However, these young students can also be the most rewarding to teach as you can see the real progress. The PalFish lessons are very interactive with songs, videos, and games. This helps
even the smallest and shyest learners become immersed and participate in the lesson. I have also noticed that most teachers end up falling into a specific student age group that they do best with or get booked by the most.  There are also some very advanced students where you will talk to them as if they were a native speaker and talk about very complex subjects.
How many students did you usually teach in a single class?
All PalFish Official Kids Course Lessons are designed for one-on-one lessons. There should never be more than one student in the lesson at any time. Of course, sometimes there is a friend who pops in or something like that. We are encouraged by PalFish to report in the class if there is more than one student because PalFish lessons are not designed for more than one student to learn a lesson at a
time. It has happened to me a few times that big brother or sister takes the phone from little brother or sister who is supposed to be learning. I report it and PalFish quickly informs the parents who come in and restore peace and order to the lesson. Teaching one student at a time is something that I really appreciate. You can spend time really getting to know your student and tailor each lesson the that specific students needs. I find it makes the teaching experience much more enjoyable for me and makes learning easier for the student!
Working hours and pay
How many hours per week did you typically work? -what was the maximum number of hours you could work?
I have worked a varying hours for PalFish. When I lived in Asia I would teach about 40-50 hours a week. Now that I live in the USA and have another job on top of PalFish I choose to teach only about 15-25 hours per week. There is no maximum number of hours you can work. If you can teach, open up your schedule and let those bookings pour in!
Were there any deductions? Did these seem fair?
There are deductions for cancelling within 24 hours. The cancellation fee is the same as the lowest pay grade for 1 class's pay. You are able to appeal through your class Admin if you had to cancel due to an emergency so long as you can provide proof of said emergency. (However, they do NOT accept power outages as an emergency situation anymore. Essentially because they want us to have backup
power banks and cellular internet set up.)
If you cancel with over 24 hours before the class there is no monetary deduction. There is a point deduction but it is very minimal and really has no effect on you as a teacher. You can also cancel as many classes with over 24 hours notice that you need. There is no limit. There are also some deductions for being late, missing a class, or leaving early. In my 2 years with PalFish I have never personally experienced any of those deductions, and as long as a teacher is
prepared for their lessons there is really no reason they should experience those deductions either.
How much did you get paid per lesson?
We are paid in Chinese Yuan Renminbi (CNY). This is where the points system comes into play. Each lesson you teach you get points. Those points add up each month and determine your pay rate for next month.
Each class is 25 minutes so you can teach 2 classes per hour. There are 5 pay levels. Remember this is the pay PER CLASS not per hour.
Level 1 = 55CNY (1/2021 exchange rate = $8.49USD) per 25 min class.                  Level 2 = 60CNY (1/2021 exchange rate = $9.26USD) per 25 min class.                  Level 3 = 65CNY (1/2021 exchange rate = $10.03USD) per 25 min class.              Level 4 = 70CNY (1/2021 exchange rate = $10.81USD) per 25 min class.              Level 5 = 75CNY (1/2021 exchange rate = $11.58USD) per 25 min class.
Basically the more you work this month the more you get paid per class next month. (Talk about motivation to teach!) I used to always get Level 5 pay when living in Asia working full time now I get level 2 or 3 pay and am content with that.
What was the most you earned in a month? What is the maximum you think you could possibly make at this company in a month if fully booked?
When I lived in Asia/ Europe time zones I would teach weekdays only and I would make over $3,000 USD every month. I believe the most I ever made was a little over $3,700USD in one month. Now that I live back in the US and teach only 2 short mornings and 2 evenings a week I make approximately $750USD a month and am happy with that. If I wanted to teach more hours, I definitely could I just choose not to currently. I have a friend who is one of the top 5 PalFish teachers when it comes to teaching hours each month. He makes approx $4,500USD per month. However, he takes very few days off if any at all. He is also currently living in the same time zone as China.
Support & conduct
What was the feedback and support system like?
Since parents can directly message us I feel like the feedback system for how we are doing is pretty transparent. PalFish has also recently improved their system and allows us to contact each students Chinese Headteacher. This function has been very useful for when we need to suggest something like a change of level for the student or an ongoing problem that we want PalFish to address with the parents of the student. I will say that the PalFish teacher Admins are very busy and have a huge workload.
Due to this response times aren't great. However, they will respond. Some teachers get mad when they don't respond quickly and then blow up their admins inbox with angry messages. This is not the way to do it, and no wonder they don't get responses. Send one or two polite messages to them, wait a day or two and they have always gotten back to me. Also, when you write reports to the student after each class PalFish has designed their own automated system that helps you write feedback for that lesson. Of course, if you would rather write
your own feedback you can do that also.
Did the school only hire native speakers?
Yes, but there is a loophole here. They require you to show proper documentation (usually a passport) from the following countries and if you have that documentation then you can get hired even if you aren't originally from there:
USA
Canada
New Zealand
Ireland
UK
Here is the link to apply:
https://ipalfish.i2mi.com/klian/web/dist/m/teacher/invite.htmluid=5335931&channel=30001&teacherregion=0
(They also now accept teachers from the Philippines. However, the pay rates are lower. Here is the link for ONLY those applying from the Philippines:
https://ipalfish.i2mi.com/klian/web/dist/m/teacher/invite.htmluid=5335931&channel=30001&teacherregion=1&fbclid=IwAR0veJd6shrogCjFGQgGhylft2Wm0JLtQBZ1sw2xGT1nji7Ct5icTj1zfDQ).
Something else important to note is that you do not need a Bachelor's degree or any kind of previous experience teaching to be hired by PalFish. The one thing they do require is that the teacher is TEFL, TESOL, CELTA, or TOEFL certified.
How do you think the school could improve?
I think that after a teacher works at PalFish for so long it would be nice if the point system no longer applied to them. I also think they need to reconsider their stance on power outages and approve that as a valid reason to cancel within 24 hours.
Any advice for a teacher considering a position at this company?
I would advise that anyone looking to start at PalFish find someone who is already working there to help them through the application and interview process. There are a lot of small details that only those who already work with PalFish would know and those titbits of knowledge can really make the difference between passing or failing the interview. For anyone who wants my assistance you can use this link to apply and I will get a notification from PalFish and be able to assist you through the entire application process or help you decide if PalFish will be a good fit for you or not. https://ipalfish.i2mi.com/klian/web/dist/m/teacher/invite.htmluid=5335931&channel=30001&teacherregion=0
You can also find me @palfish_sav on Instagram, or email me at [email protected].                                                                                                                          Invitation Code: 59680227
Interested in working in China and want to find out more? Our UK agency ensures that schools are up to top standard and provides an additional layer of protection and reassurance when negotiating issues with your Chinese school. To find out the latest vetted and quality assessed top providers in China check out nooneliterecruitment.com/teach-english-in-china.