Teaching in China is rewarding, challenging and adventurous. You will learn to cope in a new environment, make new stimulating friends and grow both professionally and emotionally while living in a vibrant, economically thriving country that is also steeped in culture and history. I'm writing this blog to share my experiences of living and working in the Middle Kingdom (literal translation of 中国, China) which may entice those looking for a sea change and even a new career.
I am a university qualified English teacher from Perth, Australia. I have taught high school English in Western Australia, the UK and now China. Although I am an education major please don't be dissuaded as there are many full time teaching positions available from teaching kids after their normal school day (this means evening work and on the weekends), university positions and public school gigs which only require the candidate to hold a university degree from a native English speaking country. As per all professions, with more experience, salaries increase and administrative roles also appear.
School
My current employment is teaching ESL/English to Year 12 students at an Australian International School which has classrooms within a much larger Chinese senior school, named the Experimental School affiliated with Nanjing Normal University (I know it's quite a mouthful). Our current Year 10 to 12 cohort has about 180 students and the purpose of the school is to send the graduating students to Australia for university through the completion of their West Australian Certificate of Education (WACE), similar to the GCSE.
The school has a range of subjects and an international teaching staff. The school's facilities are modern with interactive boards, chalkboards or whiteboards in classrooms, exercise areas such as a basketball court and a synthetic turf football pitch, computer laboratories and a very affordable student and staff canteen. A teaching week is up to 22 hours of classes, which is included in 40 hours of work a week. The 40 hours are taken up with lesson preparation, marking and other teaching/extra curricula duties. There are favourable holidays in this type of teaching with roughly 9 weeks a year school holidays and 2 weeks, or thereabouts, of Chinese national holidays. It's important to note that Christian religious holidays are not recognised in China. I haven't had a Christmas in Perth for 4 years although some schools do kindly place Christmas day as a holiday. Presently, I'm not that lucky.
I live approximately 1 kilometre from work and, this means, my commute is less than 5 minutes by bike or 10 to 15 minutes walking. Interestingly, this is shortest commute I've had in my 11 years of teaching and remarkably shorter than when I lived in Australia or the UK. As like most of Asia, China is a land of motorbikes with both electronic and petrol powered. I recently bought an electronic bike for my commute and daily activities. It is not great on the waistline but does enable me to jet to work very quickly. Most jobs in China will help their employee find reasonably priced accommodation close or very close to their place of employment.
The students in China are great, by that I mean and by comparing to other countries I've worked, they are hardworking, motivated, respectful and eager to learn from teachers. The younger generation in China have been learning English from kindergarten and also participate in classroom tuition on the weekends and after school, much like I played sport when I was growing up, this equates to students, and parents, who value education and education is intrinsically part of Chinese society. Confucius laid the foundations of this philosophy. Interestingly, the word for teacher is laoshi老师, a term of respect.

City
The city in which I live is called Nanjing, an 8 million populated, economically strong city in Jiangsu province. Nanjing was once the capital of China and has been a number of times in its history, hence it has many important landmarks related to China's imperial and more modern political history. Daily life in Nanjing is much like that of any other urban, densely populated city. With good public transport, notably Shanghai is only 2 hours away by high speed rail (like the Shinkansen in Japan), public and private amenities, an active expat community and maintained public green space these all make Nanjing an enjoyable place to live and a city that is erring more on the side of developed than developing. Personally, although I miss the ocean, originally coming from the pristine coastline of Western Australia, Nanjing is very comfortable and many expats come for a year and end up staying well over 5. Living in Nanjing also opens up Asia as a close and relatively affordable travel destination much like living in England does for Europe. That alone makes China very attractive for those who have the travel itch.
Accommodation
Another important area of consideration for any expat is accommodation. Not surprisingly, living in the most populated country on earth means high density living and therefore, apartment complexes. I currently live in a 1-bedroom apartment housed in a 19 storey high, 20-year-old building approximately 30 minutes from the city centre of Nanjing. I have lived in varied buildings ranging from 54 levels to 3, a studio apartment and a spacious, shared 3 bedroom.

My digs have modern appliances and conveniences however, the apartment is not centrally heated and Nanjing snows in winter. Northern China's apartment buildings do have internal heating standard, which is fortunate. My rent each month is 3300 Chinese Yuan (690 AUD, 470 USD, 364 GBP), standard for the condition of the apartment and location from the CBD. Understandably, closer to the heart of a city and the largest cities in China, namely Beijing, Shanghai and Guangzhou, attract higher prices. Rental contracts are most often 1 year with 1 month rent for bond. Utilities in China are quite cheap compared to Australia and the UK.
I live in the university district of Nanjing with many universities in the area thus the neighbourhood is very lively. There is also a large expat community in most major parts of Nanjing and expat restaurants and pubs for us to meet at. My local pub/restaurant is only 5 minutes by bike from my apartment and a great place to catch up with mates who live in the area.

When asked about the highlight of my placement I have this to say. Chinese cuisine is world famous and truly memorable when you are at the source. Some of my best memories of China and indeed Nanjing are culinary related. The salted duck, unique to Nanjing, is one of those special experiences likewise tang bao汤包, or soup dumplings, truly delicious! The other aspect that brings me warmth and happy reminiscence is the friends that I've made living abroad. Most of them teachers and likeminded souls, one builds great friendships that continue on once they have left their teaching post in China. While writing this I have been perusing the many photos that I've accumulated over the 4 years and smiled and chuckled at those great nights and trips with tremendous friends.
I definitely recommend living in Nanjing, China and teaching ESL/English as a vocation. From the new and exotic sights, sounds and tastes of the city to the warm smiles and satisfaction from imparting knowledge to eager, optimistic students. In addition to exciting and affordable travel options when school holidays come around. I have truthfully loved my time in China and plan to spend several more years here.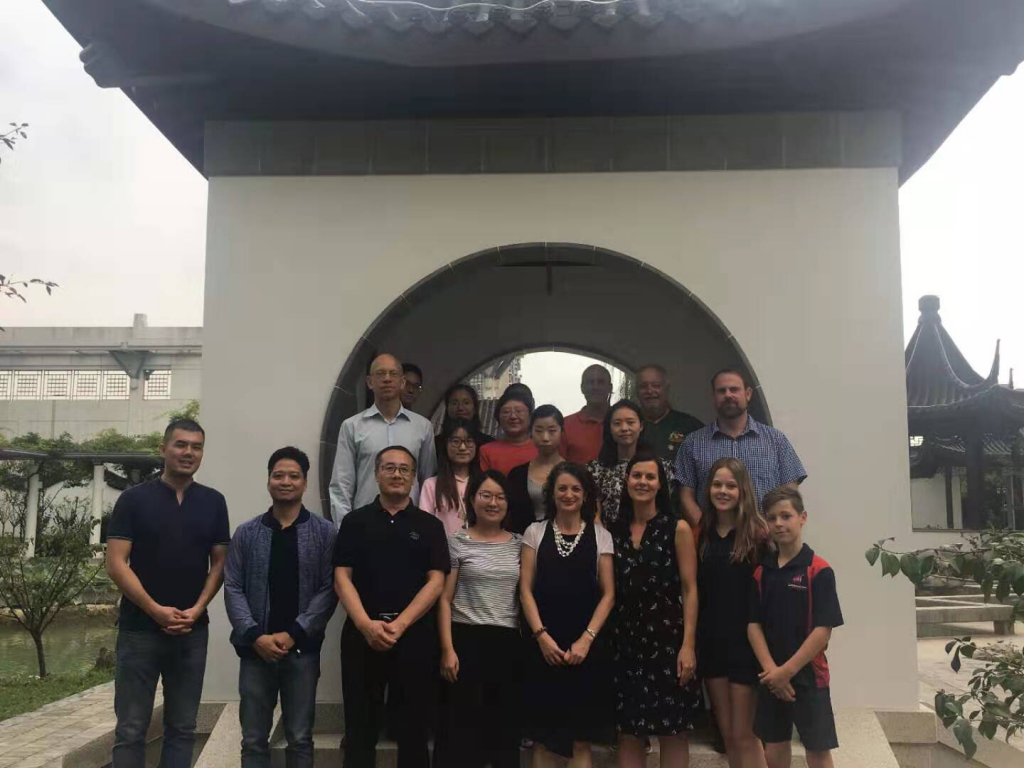 Interested in working in China and want to find out more? Our UK agency ensures that schools are up to top standard and provides an additional layer of protection and reassurance when negotiating issues with your Chinese school. To find out the latest vetted and quality assessed top providers in China check out nooneliterecruitment.com/teach-english-in-china.