If you're going to live in China or even take a vacation there its highly likely you will want access to popular western sites that without a good VPN are inaccessible in China. Over recent years there has been a shakeup of VPN's in China with many old favourites closing down and tighter regulations specifying only authorised VPN's allowed to be used in China. This blog post takes a look at one of the most popular and well known VPN's in the world Express VPN. To see how it held up in China. We went on a one month trip around China using only Express VPN as our tool for accessing the greater internet. Here is how we found it.
Installing the software
Before catching the flight to China we prepared to preinstall the software. This is highly recommended as many VPN websites are censored by China hence blocking access to the software once you are in the country. Installing Express VPN was a very pleasant experience. The software had Apps on iOS and Android that we used to download the app onto our Samsung Galaxy Smartphone and our iPad. The installation process was smooth and hassle free and our account with Express VPN meant that we could install the software on as many devices as we liked with no limits. We could then use the software similtanously on up to a huge 5 devices. Very nice!
Using the VPN
With the app pre installed on our phone, using the VPN was very straightforward. We first connected to WiFi or used the data provided from our local SIM card and then simply opened the app and pressed the big button in the centre to connect to the Virtual Private Network. In other words, this connects to a computer somewhere outside of China, this computer then connects to the internet as a proxy and sends information back and forth to you over an encrypted connection. This provides additional cyber security especially on open WiFi networks as anything sent and received to you will be encrypted and any naughty devices on the same network watching your data will not be able to see what you are sending and receiving- such as bank details, credit card information, anything at all.
Once the VPN is told to connect its takes a few seconds to connect to the VPN server and then once the circle turns completely green you are good to browse the free internet as normal. Safe in the knowledge that everything you send and receive is private and secure.
Connection troubles
The problem is that although the process is very simple. It often took up to 20 or more attempts to connect to the VPN from within China. Sometimes the app could not connect at all. We suspect this is due to increased crackdowns of VPNs in China hence the difficulty of connecting. Express VPN sent us an email suggesting a fix for this and quickly released an updated patch to download to fix this issue. After downloading the update the situation was usually better with minimal lost connection. Express also suggested connecting to specific
VPN servers in the app. We found that there was usually one of these servers that worked pretty well.  However it wasn't perfect and sometimes the VPN did lose connection- very awkward when you're filling out your credit card information on a booking!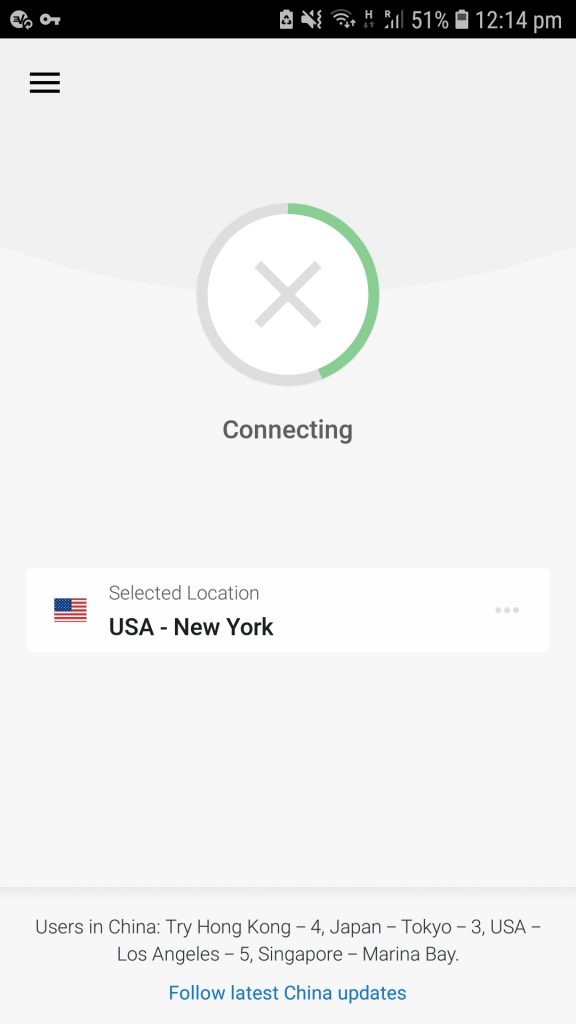 Overall performance and suggestions
Our feelings on Express VPN for China can be summarised by this sentence; It's a good VPN clearly not specifically tailored to China. Overall we were satisfied with the use of Express VPN in China. It wasn't amazing and to be completely honest it seriously lacked the stealth VPN feature of Astrill VPN. Astill's Stealth VPN works by hiding its network signal as VPN identifiable, as computers cant tell its a VPN, they do not block it and it connects quickly and reliably without fault. My one suggestion to Express would be to encourage them to develop and use their own Stealth VPN system for a more reliable connection and service.
Have you used Express VPN in China? Do you agree or disagree with our findings? Please comment any thoughts or opinions you have in the comments below.
Interested in working in China and want to find out more? Our UK agency ensures that schools are up to top standard and provides an additional layer of protection and reassurance when negotiating issues with your Chinese school. To find out the latest vetted and quality assessed top providers in China check out nooneliterecruitment.com/teach-english-in-china.