Facilities: Generally pretty good.  There are interactive white boards (although sometimes they work, sometimes not), but I tend just to stick with using the technology for projecting photos as I'm always very wary of death by powerpoint.  The school printer is available and functioning, and I have a desk in one of the teaching offices.  The school has a canteen which is relatively cheap to eat at, although I'm a fairly fussy eater and usually go for a bit more choice in the centre of the neighbourhood (15 minute walk).
Location: I am a short walk from the local shops, the nearest caffeine fix, and the metro.  From the metro it's four or five stops to get to the West Lake and the downtown area.  I've just bought myself a second hand bike for about £30 which makes getting around locally a lot easier, and I've just got the knack of hanging my takeaway coffee from the handlebars without spilling it on my way back to school.
Friendliness and Support: Everyone at the school is pretty friendly, including teachers, students, cleaners, security guards etc.  Every now and then I'll get edible presents from the teachers, and random presents from students (e.g. flower arrangement, sports water bottle).  Even though my first two weeks of lessons were observed by other teachers, feedback was very limited and there wasn't much advice.  I don't know whether that is because they were happy with what they saw, or if they thought it would cause too much loss of face if they told me what they actually thought.
Western Comforts: Expat bars, global coffee chains and fast food outlets (it's definitely fried chicken, but with a Chinese twist…).  The toilet revolution has arrived, and a surprising number of local places have western style facilities.  Having said that, many are still the classic hole in the ground.  Urinals have little plaques above them encouraging users not to drip on the floor….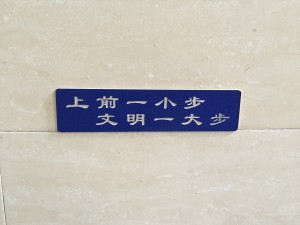 "One small step for man….  One giant leap for mankind."
Accommodation: Probably the only aspect that is a little lacking in my China experience.  I am staying in what is effectively a hotel room on campus.  It's not bad, apart from the dodgy electrics (the fuses went three times in the same evening on one occasion, resulting in three different call outs to the electrician), but I could really use a kitchen or some sort of cooking facilities as eating out the whole time has its downsides.  I have a fridge, a kettle, a TV, wireless internet (can be a little temperamental), and ensuite wet room.  But there is no 'living area'.  But, as I said, I'm living on campus which means I can roll out of bed and be in class in less than five minutes if necessary.  There's a laundry room down the hall with a washer/drier combined.
Interested in working in China and want to find out more? Our UK agency ensures that schools are up to top standard and provides an additional layer of protection and reassurance when negotiating issues with your Chinese school. To find out the latest vetted and quality assessed top providers in China check out nooneliterecruitment.com/teach-english-in-china.