Continuing from China's impressive glass constructions dedicated to raising adrenaline and better selfies is the new Stone forest Glass U.F.O. A terrifying looking glass circle hovering over a sheer, deadly drop. This activity is not recommended for any of our readers with vertigo.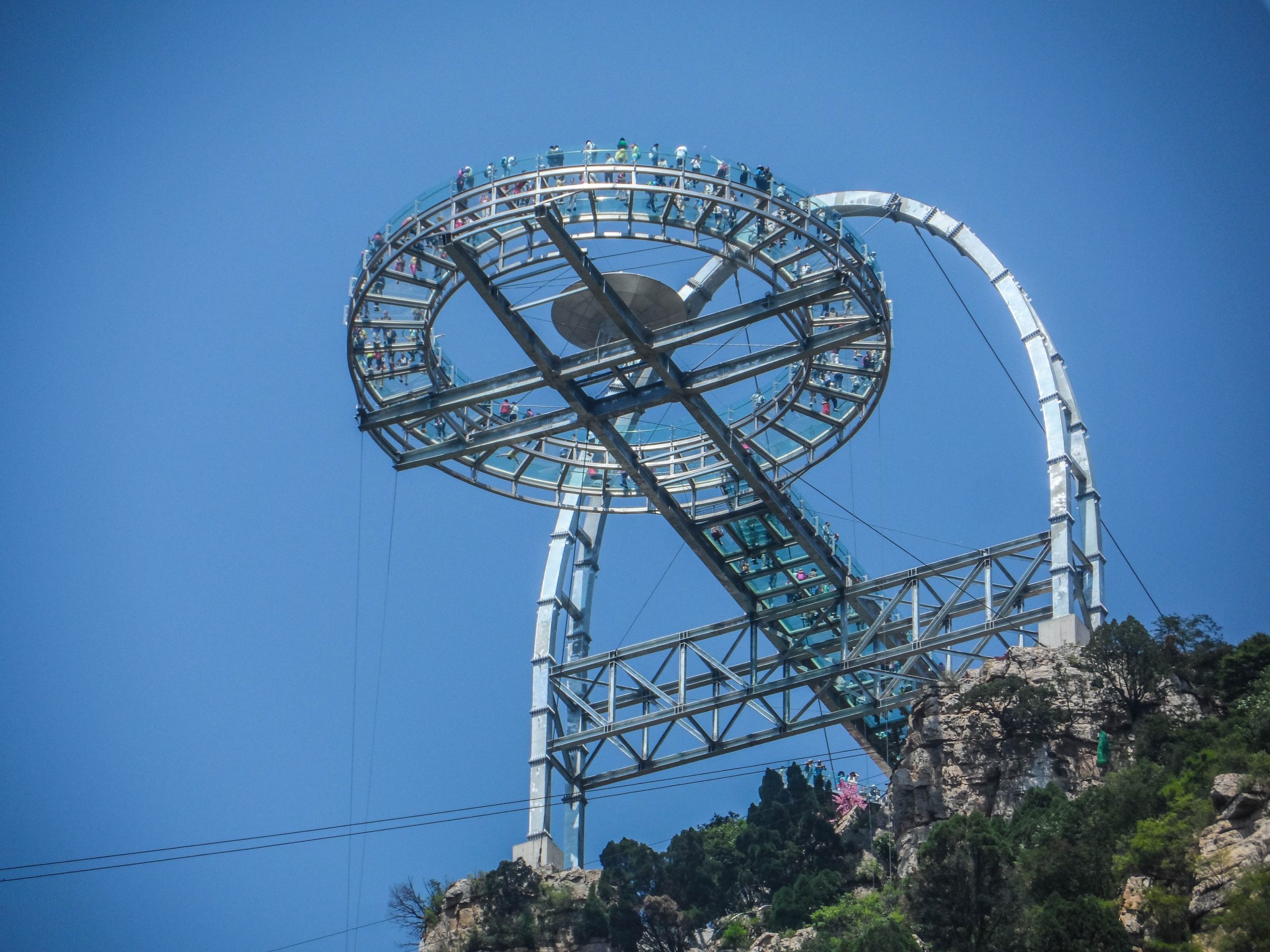 What on earth is it?
The glass structure, looking like a U.F.O is a circular glass walkway suspended over the top of Stone Forest gorge, a Chinese scenic area 2 hours drive from Beijing. The structure is suspended by multiple steel cables supported from an overhanging steel ark. The U.F.O its self is built from a rigid steel frame with glass panels both below and on the sides, giving you a real panoramic view of the landscape. There are also a couple of alien looking figures living in the centre of the U.F.O.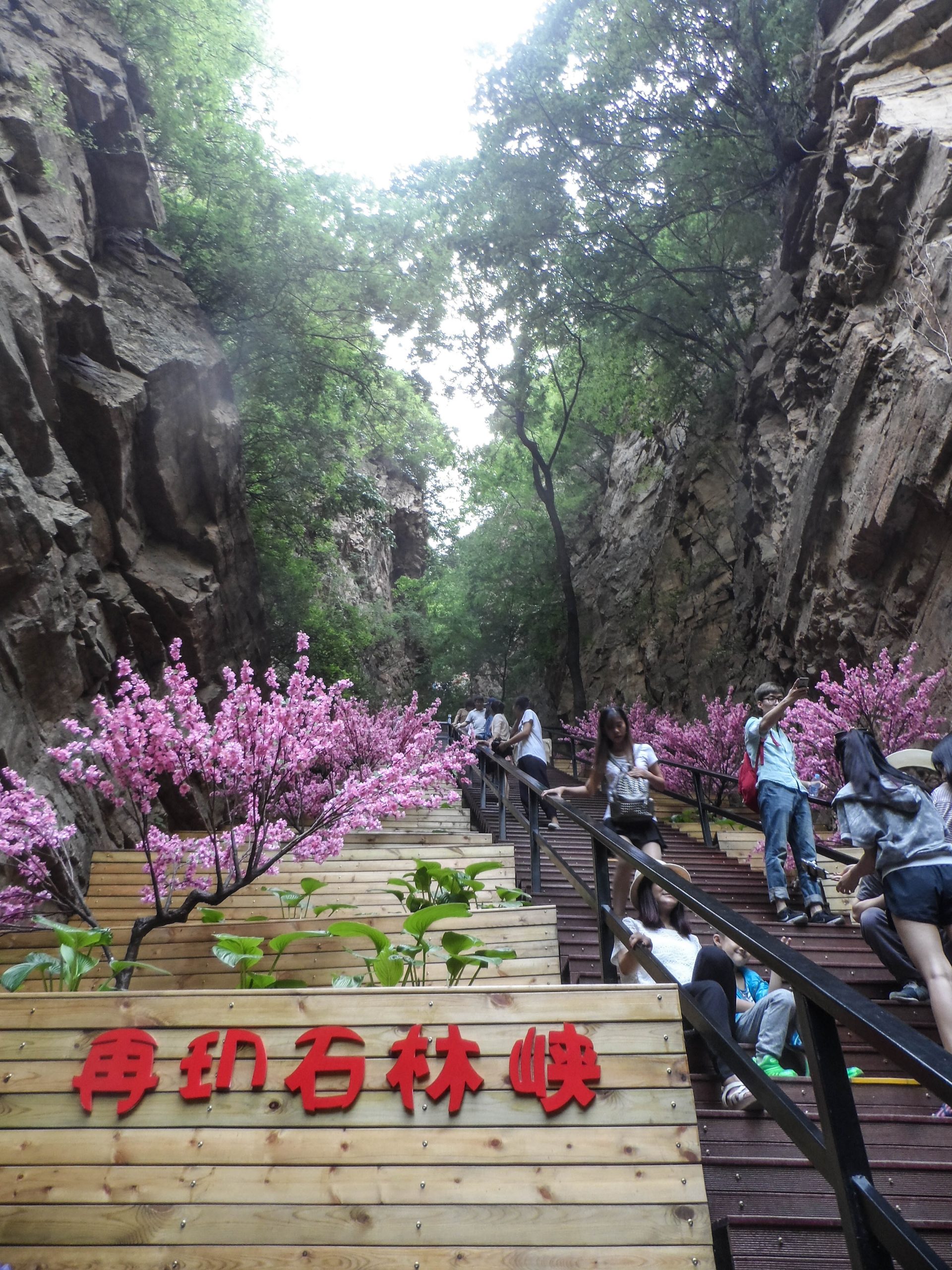 A steep climb 
To get to the new glass structure requires a little effort. Firstly, from Beijing its a full day trip starting with a 2 hour journey to the scenic area. Those wishing to go will have to get up early. We caught the bus at 7.30 am from the city centre and arrived at around 10 am. Once there you realise that getting to the U.F.O up the mountain will take some effort. You can either climb the stairs the whole way or pay for a cable car to take you the majority of the way up then walk the remainder of the way. As the attraction is new, the Saturday that we visited the mountain was packed and we had a painful additional one hour wait queuing up the last stretch of the climb in the blaring 30 degree heat (with no shade!) For this reason if at all possible we highly recommend going during the week. We got back in Beijing at approximately 7 pm.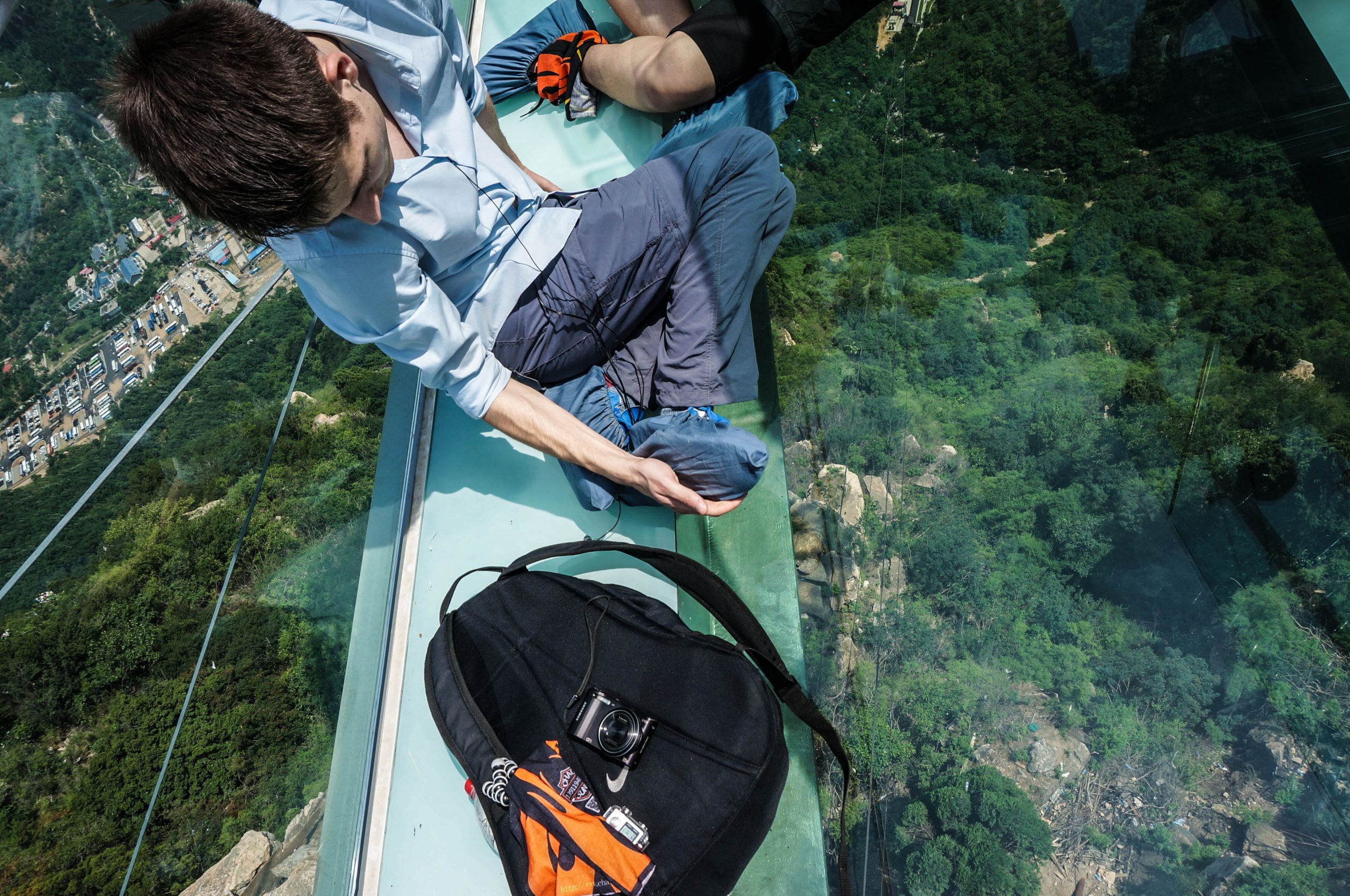 Regarding price, we paid 140 RMB per person. This included a return coach trip from Beijing and admission to the park its self. Once you reach the top, you do have to pay an additional 10 RMB for entry onto the glass walkway its self. On the walkway you must wear the protective shoe covers provided to avoid scratching the glass.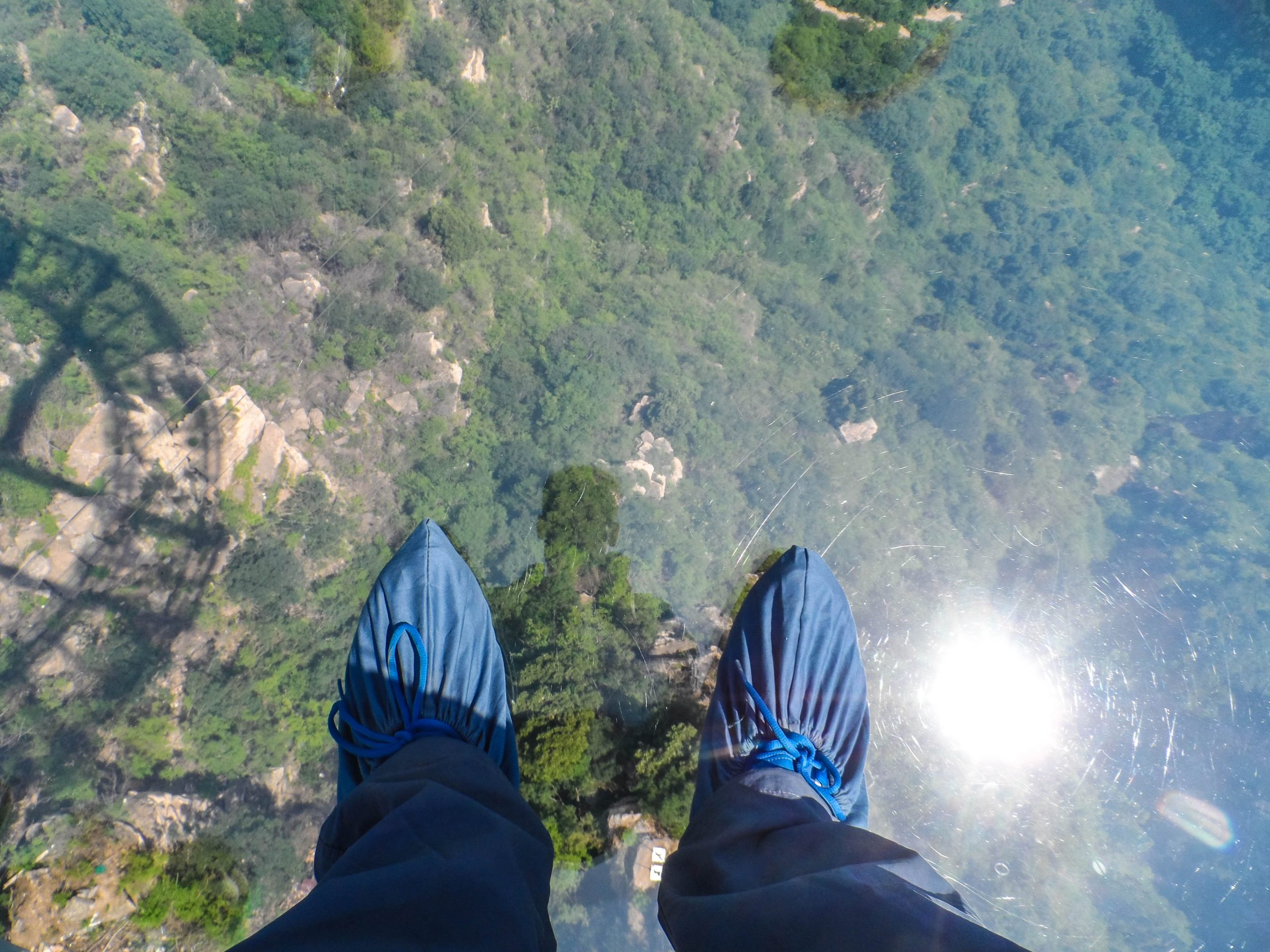 Walking on air
Once you set foot on the glass walkway running up to the U.F.O, you suddenly realise that the glass is perfectly transparent below, clear enough to see ever jagged  rock and sharp edge meters beneath where you are standing. Its at this moment where it became apparent to us that should the glass break, then our fate was in no doubt, as we would certainly fall to our deaths. At this point, each step further onto the glass structure becomes increasingly exciting as you move further from safe ground. From a visual perspective, it truly feels like you are walking on air, from an adrenaline junkies perspective, it feels good.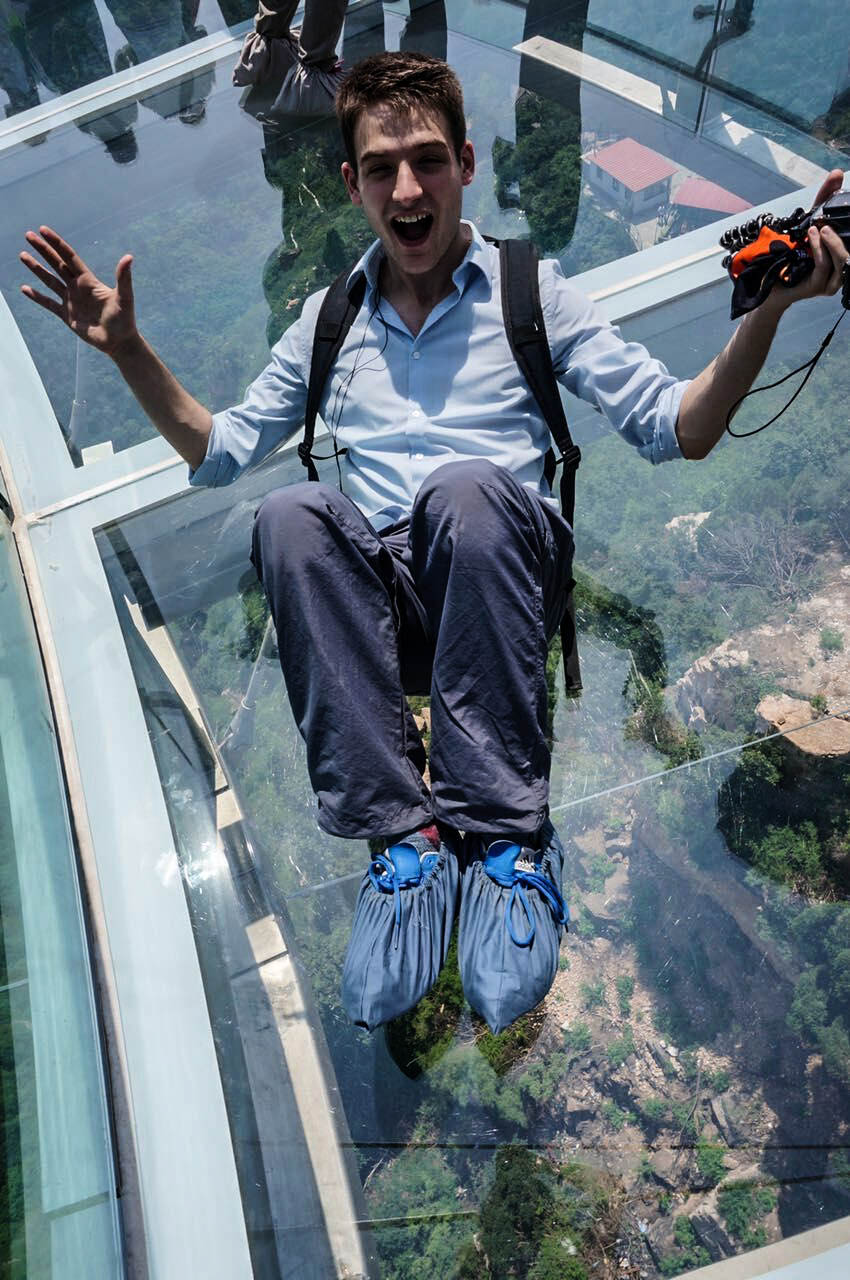 Scary selfies 
From lying on the glass to doing a tai chi pose over the gorge, selfies on the glass U.F.O look awesome and you will see countless people snapping every possible pose on the bridge from family portraits to planking the see through floor.
Don't break the glass! 
We're guessing you don't want to break the glass, fall through and drop to your death. Further than this obvious warning, you may want to be careful not to crack the glass. Each panel costs 40,000 RMB to replace and this is charged to the offending visitor. Tread lightly guys!
All in all visiting this new spectacle was a great day out and we highly recommend it to anyone who gets the chance. We had some awesome photo opportunities and caught some breath taking views. Well worth the early wake up call.
Interested in Teaching English in China? Apply now.
Interested in working in China and want to find out more? Our UK agency ensures that schools are up to top standard and provides an additional layer of protection and reassurance when negotiating issues with your Chinese school. To find out the latest vetted and quality assessed top providers in China check out nooneliterecruitment.com/teach-english-in-china.