Emily is an online English teacher. This is her review of one of her client companies DaDa ABC.
Last July 2019 I started teaching English online as my full-time job. It took me 6 months to build up a steady income with various teaching platforms. My first teaching platform to work with is Dada.
Who is Dada?
Dada is one of the major online Chinese companies. They've come under fire recently with new policy changes and pay structures. I'm going to outline the knowledge I have obtained from working with this company for over a year.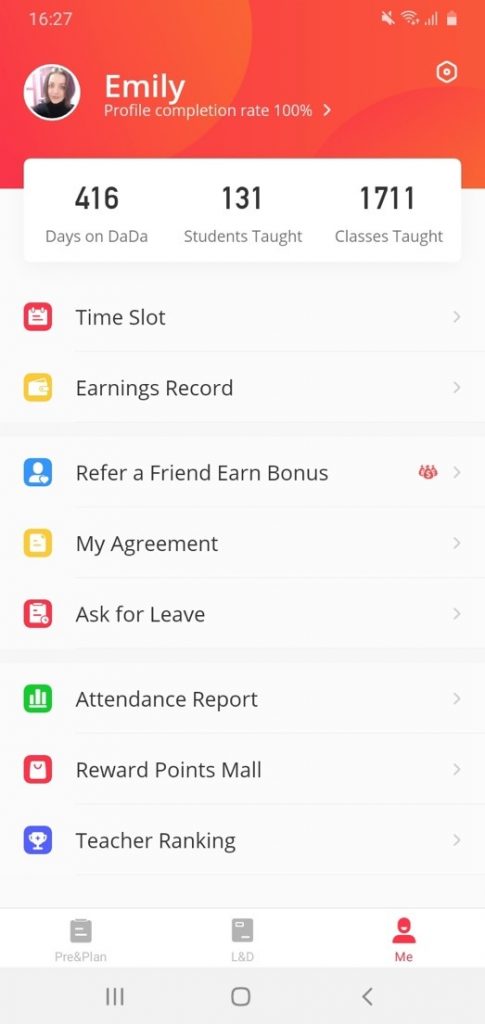 Working hours.
My typical workday with Dada is between 6-9p.m Beijing time (which is 11-2p.m GMT) from Monday-Friday. I also work on Saturday and this is my busiest day, I work from 8-2p.m GMT.
However, my typical work week with Dada has been slashed dramatically in the past two months. During the peak times with Dada I worked between 22-25 hours a week over 5 days. Now I'm lucky to work 15 hours a week. Due to the deductions in the pay scheme and some of my regular students being taken away from me, I made the decision to drop some of my hours with Dada and work with another online company.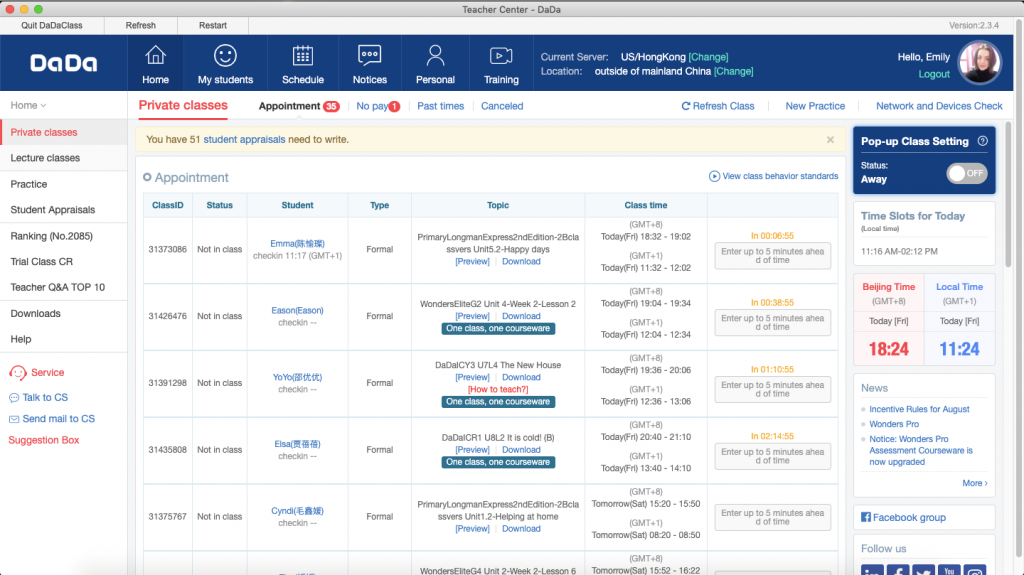 Setting up your hours.
Teachers are required to download the Dada App. This App will help you monitor your classes (cancellations, trial classes, new classes) and input your availability and also ask for leave.
You will see below my hours in red.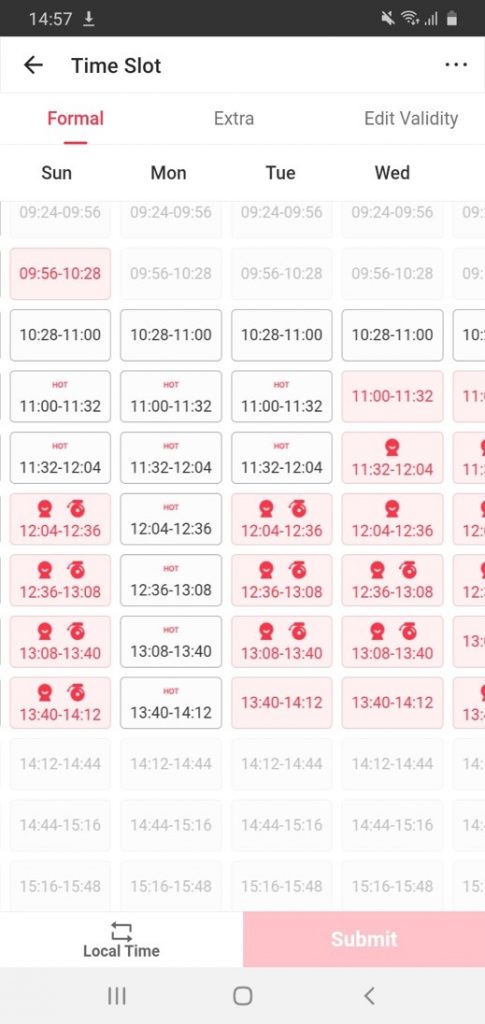 Pay.
The pay structure is based on incentives and a step -up scheme. The more hours you work, the more money you make at the end of the month. Dada will offer you an hourly pay rate like $13 per hour, if you work for 20 hours that month, they will add another $1 to your pay rate. If you work over 60 hours in a month, they will add $6 to your pay rate.
At the beginning of the year, this wasn't so bad, some months I could work 70-80 hours a month depending on student cancellations. My best month under this new step-up scheme was in February this year, I earned $1,730 dollars working 87 hours. However, June of this year I only worked 57 hours and earned $1,050, this was due to regular students being taken away from me and student cancellations.
*Dada are offering students a free talk course. From what I've heard this offers teachers only $10 dollars an hour.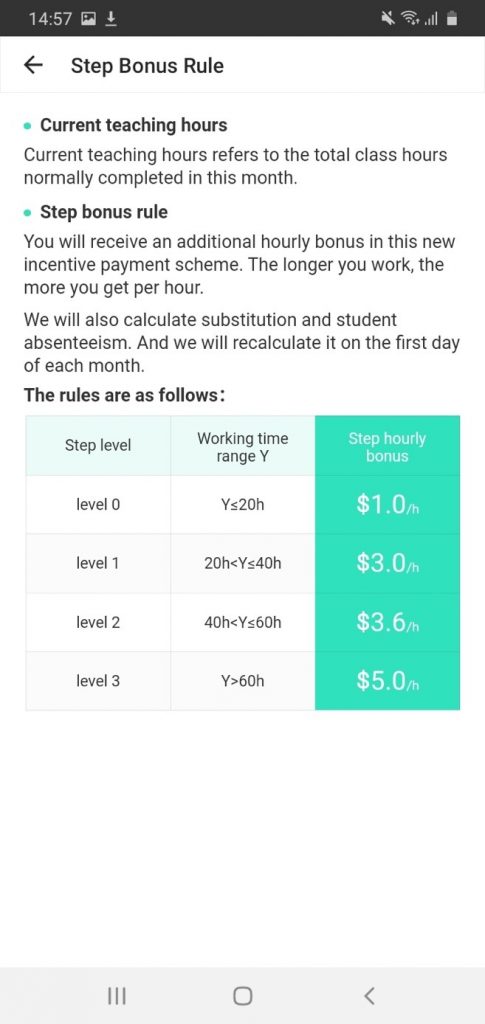 How and when do I get paid?
Payment is sent through Payoneer. In the past, it was sent to my bank account. However, more policy has changed, and all teachers are required to set-up a Payoneer account. In my experience this has been successful for me. I need to exchange dollars into Euro and exchanges rates are lower than my bank rates or PayPal.
Pay is sent between the 15-20th of the month. Delays will occur, due to the 15th falling on a weekend, holidays or sometimes there are just no reasons. Don't panic, you will get paid!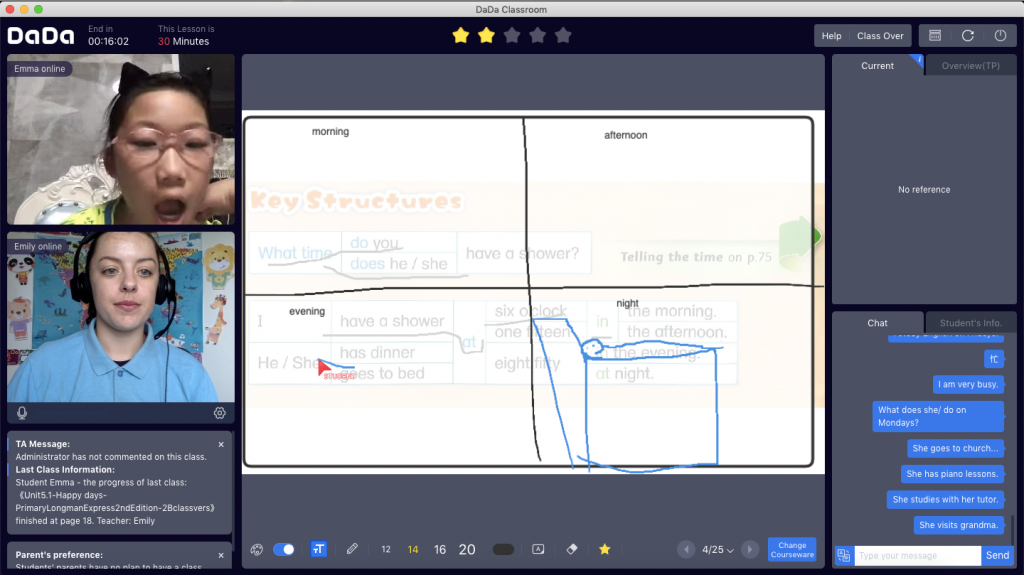 What are the students' and lessons like?
Students range between the ages of 4-16 years of age. The classes are 1-1, 30 minutes per class and 2 minutes rest between each class.
Student's abilities can range from complete beginner to advanced. The lessons are fully prepared as I've mentioned and the majority of the lessons I teach are reading or phonics based. There are two types of courses; one class, one courseware and this requires you to finish the lesson in 30 minutes and as I like to call free range lessons, which you have the freedom to do as many slides in 30 minutes.
What is Dada ABC like as a company?
I've had no issues with the company thus far. Dada is a huge online company and some teachers need to come to terms with the fact that problems will not be resolved instantaneously, and student coordinators have hundreds of students and teachers to deal with on a daily basis.
When I have a problem with a lesson, pay or a student I usually contact the team and I get a response either that day or 24 hours later. If there are any urgent issues, there is I.T and a help button on their platform.
The platform.
The platform is simple to use. There is a whiteboard function, text box function, chat box which translates into Chinese and a pen. You can use Manycam with the platform which is useful to show digital flashcards and show songs and videos. There is a help button to call for I.T if there are any issues.
What are the requirements for Dada:
Job Requirements:
Speaking English at neutral accent
Hold a BA degree or above
Teaching certification is required (TESOL/TEFL/CELTA/PGCE etc.)
Stable and strong internet connection
At least 1 year teaching experience
Working hours:
4 to 20 hours per week
Available slots:
Mon to Sun 18:00 to 21:00 Beijing time
Saturday to Sunday 9:00 to 21:00 Beijing time
GMT+8
My final thoughts on this company:
If you're new to the industry Dada is a great platform to gain experience and open doors to other opportunities. If you're new to the game don't let negative comments about the company scare you away. However, these companies have the power to change agreements, hours, pay and take your students away. It's nothing personal, it's just business.
Interested in working in China and want to find out more? Our UK agency ensures that schools are up to top standard and provides an additional layer of protection and reassurance when negotiating issues with your Chinese school. To find out the latest vetted and quality assessed top providers in China check out nooneliterecruitment.com/teach-english-in-china.